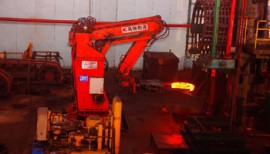 Steel prices continue differentiation policy. Previously, the western, northern prices, the eastern region of the case in September fell ex-factory price of steel appear. Recently, the introduction of a new round steel mills steel prices policy also appeared differentiation phenomenon. Some mills an early change prices continue downward trend appears tentative pull up. For example, some steel enterprises in east China in mid-October to adjust the prices of construction steel rebar prices up 30 yuan / ton, high-wire, plate, screw up 20 yuan / ton, while the first half of the prices are down 100 yuan / ton. In addition, some steel mills in other regions also raised in mid-October construction steel prices, for example, Hebei Iron and Steel Group Tangshan Steel, Xuanhua Steel and Chengde Steel plate, screw the mid-October price increase 60 yuan / ton, steel Hangang River the high price of cable and wire spiral were up 50 yuan / ton; Liu steel construction steel prices will increase 30 yuan / ton; Egang the Cape high Line listing price, plate, screw prices were up 50 yuan / ton. However, some large steel enterprises continue down cold, hot rolled coil prices, the recent introduction in November Baosteel major steel products ex-factory price. Among them, hot-rolled, cold-rolled, galvanized coils and other mainstream varieties prices down 100 yuan / ton.
"North-south timber" Starting the affected area market. As China's northern regions have entered the winter, building construction in the area affected, steel demand will be significantly reduced, excess resources southward into Shanghai, Guangzhou and other southern markets. Most of the "North timber south," the time in the year in October to next February – March. Currently, the northern part of the construction of some steel mills have been diverted to the Shanghai market. This year's "North timber south" will last long, how many resources to reach the southern market, these are uncertain, the north and south of the steel market will have some impact.
Steel export situation is still better. With the improvement in external demand and the spread between domestic and international market expansion, in 2014 China's steel exports increased rapidly and reached a record high. Recently, the Customs data show that the first three quarters of this year, China's exports of steel 65.43 million tons, an increase of 39.3%; steel exports worth 314 billion yuan, an increase of 25.4%. September, China's steel exports 8.52 million tons, a new record, an increase of 73.2%. However, the anti-dumping measures against China's exports of steel products abroad were also more up. Since September 4, there have been eight cases against China's steel anti-dumping investigations. Due to substantial growth in China's steel exports triggered anti-dumping, anti-subsidy investigation will affect China's steel exports in the latter part of.
Currently, the Steel City has entered a "silver ten", but did not appear the traditional peak season scene, October's first trading week, the steel price ups and downs of the stock market does not appear, except for some minor fluctuations in steel prices, the overall stabilization. Traders on October market conditions mostly cautious attitude, think mid to late 10's steel prices will likely stabilize and rebound, the possibility of deep down is unlikely.
Recently, the futures market, iron ore, steel prices are intraday trading, and hot rolled coil, coke, coking coal and other product prices have also soared. In addition, after the National Day Tangshan billet prices rose steadily, so the current favorable factors increase the steel city of the previous month. But for the next 10 months late steel market trend, Mountain Laiwu Steel Group, a sales manager believes that the market upside will be difficult, mainly not much positive change in actual demand.
As of October 13, HRB400ф20mm rebar average price than the previous day on the nation's major markets rose 28 yuan / ton, ф8mm high average price over the previous day up 25 yuan / ton, Q235B4.75mm hot rolled coil average price over the previous trading day up 15 yuan / ton, 1.0mm cold rolled coils, 20mm plate average prices were flat with the previous day.
Steel market recently steadily
According to the operators in the sales feedback, "silver ten" at the beginning, although not seen the Steel City start the opener, but trading conditions were normal. A steel trading company clerk in the "China Metallurgical News" reporter, said that the first day after the National Day, sales of construction steel can, the market has just opened there customer potential buyers, sold several hundred tons, turnover Price did not give concessions, intraday quotes pull up rose 10 yuan / ton to 20 yuan / ton, a number of large sales of more than 1000 tons.
For "silver 10″ Steel City start, operators felt better than expected, indicating a smooth start in October of the steel city will stabilize the better.
Related statistics show that, after the first day of National Day, Shanghai construction steel sales totaled 13 large 14,550 tons, an increase over the previous trading day of 1400 tons. "After seven days holiday, site preparation mostly digested before the National Day, need to be supplemented, together with the date of offer rose slightly in early trading, increased customer acquisition, sales increased." A salesman said to reporters.
From the construction steel market conditions and prices run the nation's major regions, the first day of the national 61 major steel market, prices have after the National Day 14, down there six, unchanged for 41. And when the weekend (October 11), market prices have been increased to 26, down to five, there are 30 flat.
The overall situation is stabilizing plate areas. Recently, the plate market prices rebounded slightly in some areas, such as the recent Shanghai plate market transactions more active, there is a growing volume shipments of most businesses, have to pull up prices, rose to 10 yuan / ton to 50 yuan / ton, some businesses even reluctant to sell. Last Saturday (October 11), Sha Steel, Shougang production of hot rolled coil 2.3mm × 1250mm × C, 2.3mm × 1500mm × C prices rose to 3,270 yuan / ton to 3,290 yuan / ton, or 40 yuan / ton to 50 yuan / ton.
However, cold rolled coils market performance slightly inferior. Recently, the market price of cold rolled coils has not rebounded, mostly dominated by consolidation, some slightly loose. Last weekend, the Shanghai market, the main specifications of the transaction on cold rolled coils for 3830 yuan / ton to 3,920 yuan / ton, fell 10 yuan / ton to 20 yuan / ton price than before the National Day; market transactions in general, traders overall sales of small, still ship-based, does not appear reluctant to sell.
Related posts