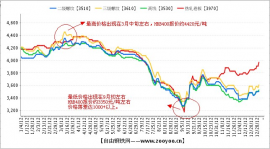 After entering in September, spot steel prices to accelerate the loose, mill profits shrink rapidly, currently has about half of the steel mills face a loss situation, steel production enthusiasm declined. According to CISA latest statistics, both steel production and inventory reduction, which helps stabilize the spot steel market rebound. Tangshan billet prices continue to rise rapidly after the National Day, October 15 reached 2550 yuan / ton, compared with the pre-holiday rose 90 yuan / ton, up 3.7%. As a barometer of construction steel prices Sha Steel, 11, announced in mid-October rebar prices by 30 yuan / ton, open around the rebar spot prices surge. On the 15th, Shanghai 20mm rebar price 2880 yuan / ton, compared with the pre-holiday rose 100 yuan / ton, rose to 3.6%.
Taken together, the multiple positive news driven, mainstream domestic steel spot market reported stable raw material. Among them, the imported iron ore market vulnerable to run; domestic ore market running smoothly; billet market segments continue to rise; coke market running smoothly; seaborne market weakness operation.
Specific view, imported ore market is weak, watching the market mentality is strong, the overall market inquiry deserted. Spot: Inquiry steel plummeted compared to yesterday, some steel mills said that at present there is still room for downward adjustment of iron ore, the current procurement cautious, still maintain now with the current mining, although relatively strong performance billet afternoon, but the overall market difficulty still good, imported ore market is expected to short-term downside risks still exist. Futures: DCE 1501 iron ore futures contract opened low, finishing the day lower, and finally settled down to close at 565 compared with 3.09%.
The mine, the domestic ore market stable watching. Pull up sharply and raw lumber was the opposite, the main cause of environmental pressure to limit production of raw materials, imported ore deal with the weakening of steel Inquiry again light, increasing market pressure inside the mine. Domestic ore market is expected to continue weak short-term or stable pattern.
National billet section continue to rise, Shandong, Shanxi, Tianjin rose 20-30 yuan / ton, rose sharply in the afternoon Tangshan billet 60 yuan / ton. Morning the market opened, the downstream sections Tangshan region can still be traded, 145 steel rose 90 yuan / ton, intraday profiles with inflation, after rising turnover in general, driven by this afternoon billet greatly increased. At present, the domestic steel market continued to pick up, north billets were active, or driven by other domestic steel billet market continues upward.
Domestic coke spot market running smoothly, the local market traded in good condition. It is understood that, in Hebei steel mills shut down recently or have massive overhaul news will likely affect the demand for steel raw materials procurement, on the coke market continues to improve run a certain pressure. Taken together, coke prices rebounded support remains uncertain in the short term or in the smooth operation of the coke market-based. Futures: Coke 1501 low volatility, fell 1.01 percent to close 1074, volume lighten up.
Scrap market steady rise, can still be traded. Among them, Chengdu, Guangzhou and Foshan in scrap prices rose 20 yuan / ton, the Shanghai area scrap prices rose 30 yuan / ton; Fujian Sambo scrap purchase prices by 50 yuan / ton, Tianjin days of heavy Jiang Tian steel scrap purchase price adjustments: high quality material increases 20 yuan / ton, the other unchanged. Currently domestic scrap market in general is running well, the market mentality optimistic majority, although they are still cautious, but an increase in inventories from the previous month on the operation. Recent domestic scrap market is expected to fluctuate within a narrow range based.
Steelmaking pig iron market continued weak market stability, the actual turnover more for a single meeting, the overall volume was light. Currently finished steel, steel billets, the ore goes to the line posture of business mentality has been boosted, but no significant improvement in downstream demand, the majority of pig iron ironworks and post-market traders to wait and see, is expected to run short-term stabilization of pig iron market is weak.
Related posts