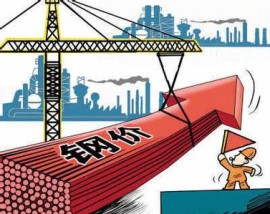 As the steel prices plummeted, the steel industry will have what kind of risk?
1, steel trade enterprise financial risk, there will be more iron and steel enterprise capital chain rupture, bring a lot of debt default. Steel trade crisis easing, there are risks of renewed.
2, is closely related to the iron and steel industry, such as coal, cement, glass and other overcapacity days also sad, a large number of enterprises will be eliminated. Upstream before the steel industry, iron ore producers will also be in the winter.
3, iron and steel production enterprises in the corporation, because the bank financing for steel trade domain, and no organization willing to pay for private steel mills unpaid blood transfusion, the day of the private steel companies will be more sad, because you lose but state-owned enterprises. As a result, it is the field of guo jin min tui.
4, because steel prices below the cost line, the production of iron and steel enterprise maintenance will be more and more frequent, the collapse of the small and medium-sized micro steel mills will increasingly, a large number of iron and steel workers will lose their jobs. And this kind of phenomenon is happening in shanxi, shandong, hebei and other provinces and cities.
Related posts