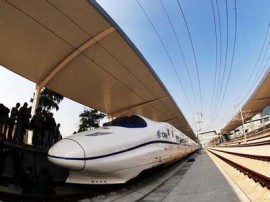 According to agence france-presse reported on November 7, 7, local time, the Mexican government suddenly announced that cancelled, led by China railway construction international consortium wins the bid to the queretaro in Mexico City's high-speed rail project.
According to the report, Mexico's transport minister GerardoRuizEsparza told Mexico's Televisa, CNN said Mexico's President, Mr "for a few minutes before dropped on November 3rd decide the bidding results, and decided to restart the bidding process".
He said that in view of the bidding process in China is the only qualified bidders, suspend the tender result is in order to avoid "for about the legality of the bidding with all questions of transparency".
It is reported, on November 4, after the bidding link, Mexico announced, communications and the ministry of communications enterprises in China is the only to meet the requirements of the project's technical and financial bid. China railway construction co., LTD. (hereinafter referred to as: China railway construction), China south locomotive co., LTD. (hereinafter referred to as: CSR) and several Mexican construction company is the only bidder. The Mexican government had previously rejected several potential tenderers inquiries, the need for more time to prepare for the bidding. Focused on the project, but did not participate in the bidding, including Germany's Siemens (Siemens), France's Alstom (Alstom) and Bombardier of Canada (Bombardier).
The project line is 210 km, the design speed of 300 km/h (electric double a frantic jumble orbit), project construction period 1210 days, operation and maintenance period of 1800 days, the contract amount of 58.95 billion Mexican pesos (about 27.016 billion yuan). The line connecting the Mexico City and the country's third largest city queretaro, is China's first enterprise in overseas construction speed of 300 km high-speed rail, is Mexico's largest infrastructure projects.
, November 10 to 13, he will be coming to China to attend the APEC economic leaders' meeting, and for a state visit to China.
Related posts