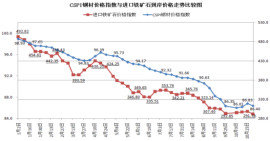 Latin America, rich in natural resources but the low level of economy, the economy mainly in agricultural production, industrial on primary processing is given priority to, the region's countries are all developing countries. Oil and gas, agricultural products, metals and minerals, raw materials products has an important role in Latin America. According to the world trade organization (wto) in 2013, Latin America and the agriculture and oil related raw materials exports of $375.717 billion, manufacturing products are exported to $194.403 billion, exports of raw materials is almost twice the manufacturing exports.
In recent years, slowing economic growth in Latin America, the industry has failed to provide economic power. Raw material prices decline, and the problem of excess production caused by the weakness of the regional economy in Latin America. In April 2015, the international monetary fund, the world economic outlook (WEO) of the IMF forecast, Latin America's medium-term economic growth will slow, large foreign exchange volatility, a decline in investment confidence, and to reduce economic activity, industrial activities will be reduced, steel demand, commodity prices and output will decline.
The international monetary fund, world economic outlook of the statistics, in 2014, Latin America's GDP growth rate is only 1.3%, lower than the world average of 3.4%, and in Latin America in 2015 and 2016 is of GDP growth forecast is lower than the world average. In specific terms, Latin American countries, in addition to Colombia, other countries GDP growth in varying degrees of decline, in which the most significant falls in Argentina and Brazil. In 2014, Argentina's GDP growth of 1.6%, and the growth rate of 4.5% in 2013; Brazil's growth of 0.8% in 2014, 2.0% in 2013.
As prime minister li keqiang, a visit to Latin America, the upgrading of strategic cooperation, China and Latin America as well as the major investment projects signed, or to face a new round of development opportunities for Latin American countries, countries in Latin America's steel demand is expected to release.
Consumption of production has stalled
By 2013, Latin America has 112 long products factory, 36, flat material factory, 14 pipe factory, 130 kilograms per capita steel consumption accounted for 4.5% of global steel consumption.
Due to uncertain global economic recovery, China's economic growth is slowing, and global steel overcapacity, Latin America in recent years the iron and steel market demand growth is slow and imports increased. Specific terms, at present, the steel market in Latin America showed the following characteristics: economic growth below potential, terminal user activity to reduce steel, steel demand, steel prices low, low profit margins, rolled steel production stagnation, slow growth in demand, steel imports at a record high.
In recent years, Latin America, crude steel production is stagnant. In 2014, Latin American crude steel output of 65.63 million tons, accounting for 4.1% of global crude steel production, up 0.3% from 2013. Brazil is Latin America's biggest steel-producing countries, crude steel production in 2014, 33.934 million tons, accounting for 51.7% of the total output of Latin America. Second in Mexico, 19.332 million tons of crude steel production in 2014, accounting for about 29.4% of the total output. Argentina in the third, crude steel output of 5.459 million tons, accounting for 8.3% of the total output. In 2014, the steel output of 55.48 million tons of Latin America, 1.7% less than in 2013. In 2014, production of long products 2014 tons, 26.27 million tons of flat material, 1.74 million tons of seamless tube. Among them, the seamless steel tube production compared with 2013, greatly reduced by 24.4%.
Latin America, meanwhile, 2014 steel consumption is basically stagnant, compared with 2013 fell 0.1% to 65.6 million tons.
Points in specific countries, Brazil and Mexico is Latin America's two biggest consumer of steel, with Brazil apparent consumption of 25.3 million tons in 2014, Mexico is 21 million tons, apparent consumption of steel are not higher than 10 million tons of other countries. In 2014, in addition to Colombia, Mexico, Peru, and costa rica, apparent consumption of steel and in other countries than in 2013, are greatly reduced. Ecuador reduction of up to 13.4%.
From Latin American countries steel apparent consumption per capita, apparent consumption per capita of Latin American countries are relatively low. The Columbia steel apparent consumption per capita is only 80 kg, and Colombia's steel consumption growth in Latin American countries, steel demand is rapidly increasing in the region. Largest steel apparent consumption per capita for Mexico, 177 kg, and its growth rate is reached 7%, second only to Colombia.
At present, the steel consumption in building in Latin America (47%), mechanical machines (15%), metal products (18%) and car (15%).
However, Latin American steel apparent consumption per capita is only 129 kg, lower than the global average of nearly 100 kilograms, the major countries of Latin America steel apparent consumption is far lower than in other countries of the same level of per capita GDP, suggesting that Latin America's steel consumption has great potential for growth. Latin America's population structure is given priority to with young people, at the same time, the middle class is gradually increased, Latin America's infrastructure construction demand is very urgent, these for the future growth of steel consumption in Latin America are favorable conditions.
Related posts