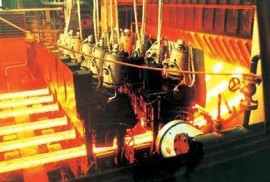 Japan JFE steel company recently decided to, in the integrated steel mill in Vietnam Formosa river project, static steel company became integrated steel mill in overseas with the blast furnace by project first Japanese steel mills.
The project will is southeast Asia's largest integrated steel mill project. JFE plans to invest about 27 billion yen ($225 million), holds a 5% stake in the project, the Formosa plastics group holds 70%, Taiwan's China steel company to hold the remaining 25%. JFE will provide the factory production technology, to ensure the production stable operation. At the same time, JFE will receive certain plant products, and with their own brand sales. The Formosa plastics group, according to the JFE steel companies join to ensure the stability of plant running and product quality is very good.
Earlier, reports that sinosteel will increase its stake in Formosa Vietnam steel mill project, from the current 5% to 30%, hoping to strengthen market position in southeast Asian countries. Because the Formosa plastics Vietnam steel construction has been a bottleneck of the project, and in May this year Vietnam chaos exclusion, under construction in the production equipment suffered severe damage to withdraw all Chinese and Chinese contractors and workers, steel cover almost not bottom go to, Formosa plastics to sinosteel for help. Sinosteel also hopes to increase the Vietnam steel project expansion of Vietnam and southeast Asia market position.
And JFE steel company has been seeking construction steel mills in southeast Asia, with the long-term overseas strategic investment in Formosa Vietnam steel projects are consistent. As early as 2012, JFE allegedly planned joint venture in Vietnam and China Taiwan Ye union steel company to build a annual capacity of 3.5 million tons of steel mills and the feasibility study, but worry about Asian steel oversupply and Vietnam steel demand growth was less than expected, and Formosa plastics group tinh large iron and steel projects, cold rolled steel posco Vietnam and southern China new steel mills such as competition, so in the last year decided to give up new factory plan. But the company said, from the long run it is necessary to build steel mills in overseas. JFE's move is to improve the Vietnam steel supply ability, in order to elaborate Japanese car makers to deal with the demand for steel plate. Currently owns eight blast furnace in Japan JFE steel company, has yet to build integrated steel mill in overseas.
Related posts