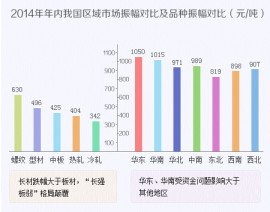 In 2014, Italy became the eu's main steel importer in China, Chinese steel imports more than 150 150 tons, the other is a country imports more than 150 tons of Belgium, but its imports are still relatively less in Italy in 4000 tons.
Among them, in December 2014, Italian for China resources purchase quantity is increased, quantity of about 225000 tons, three times more than the same period in 2013, at the same time, far more than 128000 tons of average monthly imports in 2014. Mainly was the market has been rumors that the government may cancel the boron steel products export tax rebates, plus, in the Italian group is faced with the problem of steel production and delivery, and importers to purchase.
For afternoon, some market participants believe that the user to regain the riva group will take time of delivery, and price is low, China resources has a strong competitive power, so in the future for a period of time the Italian imports will continue to remain high in China resources.
Related posts