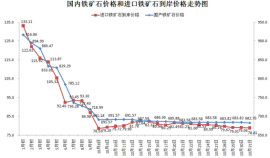 Cisa statistics show that in the first three quarters of this year, the domestic iron ore, ore production 1.123 billion tons, year-on-year increase of 75.8606 million tons, up by 7.24%, the domestic iron ore production of 137 million tons, in September fell 0.36% year on year, the domestic iron ore production.
Iron ore supply
In the first three quarters of China's imports of iron ore 699 million tons, up 16.5% from a year earlier, the imported iron ore in September of 84.69 million tons, year-on-year increase of 9.81 million tons, an increase of 13.1%. Import iron ore port stocks since a peak in May, June, July, August and September for the fourth month in a row a small decline. Port of inventory at the end of September of 110.69 million tons, the year has increased about 23.34 million tons, year-on-year growth of about 38.36 million tons. Iron ore prices keep falling trend as a whole. Imports in the first three quarters of the average price of $108.09 / ton, compared to $21.66 / ton. Iron ore imports in September the average price of $88.53 / ton, fell $2.32 / ton, in late September fell below $80 a tonne.
Cisa said Wang Yingsheng, director of the market research, although a low of $80 a tonne, but is still difficult to see the bottom of the iron ore price. The core factors affecting iron ore prices or supply and demand. Look from the supply, the output of domestic ore is still on the rise. From the point of view of demand, in the first three quarters of the crude steel (amount) apparent consumption of about 560 million tons, fell 5.16 million tons, down 0.9%. So, iron ore prices will go down trend, only after the supply and demand basically stable, the price will appear at the bottom.
Iron ore market is still there is room
In recently at the 2014 China international mining conference, the deputy secretary-general of cisa, planning institute director li xinchuang metallurgy industry, said the iron ore industry don't have to worry about the market, "just grew sharply decline, including China's global iron ore market has increased space, just isn't as big as the space". Last year, according to China imported 820 million tons of iron ore, 1 to September this year to import about 700 million tons, can determine this year's iron ore imports will break through 900 million tons.
Past by the rapid development of China provides a huge market, iron ore and iron ore supply and cannot effectively meet, potentially higher iron ore prices. Now, significant changes have taken place in the supply of iron ore, iron ore prices have also by the high steep decline in the past. "I personally think $70 a tonne is a candy, if too low, mine the huge investment recovery will meet with difficulties, any industry has a reasonable profit." Li xinchuang said, if the price increase by a wide margin, and also does not have the market at present condition of iron ore supply greatly increased at the same time, in this case, for a period of time in the future iron ore price will be around $80 a tonne. "A lot of people worried about ore price lower will affect China's iron ore 'going out' market, I personally have a positive attitude." Li xinchuang said that if iron ore dropped below $70, China will import 1 billion tons of iron ore, "we have such a big market, overseas not multiple, long-term, stable and system of the industry will have a huge impact, I still encourage domestic insight actively" go out "".
In addition according to industry insiders, in promoting the diversified import iron ore in China at the same time, also in the active design medium and long-term development plan, the first iron ore industry in China to improve the resources guarantee ability of iron and steel industry in China, and driven by means of geological prospecting, the reasonable development road to sell iron ore efficient development in our country.
The expert points out, China's iron ore industry in efforts to reduce costs and improve competitiveness, with the demand for the development of steel industry in China. Due to historical reasons, many large iron ore is all iron and steel enterprise, which has a lot to sort of both.
Related posts