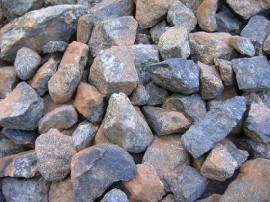 According to the related to iron ore price index, on November 19, parked in the $70.25 mark. "Daily economic news" reporter learned that, in the industry have had ore price "7" predictions, some analysis and even think that the bottom of the iron ore prices in the $60.
So, tons of price cost at more than $80 of mostly domestic mines what should I do? In September, according to data from the national bureau of statistics, 2014 years ago, the country's 3447 rail kuangcaixuan enterprises above designated size, the loss of 741 enterprises. Domestic mines has been calling for tax level adjustment to the range of 10% ~ 15% can become a reality? Even though taxes and fees reduced, the domestic mining really have competitive advantage?
Reversal of supply and demand to iron ore price has plummeted
This year, the global iron ore supply capacity, weak demand, is expected to pessimistic, prices all the way down.
China imported iron ore half of Australia has been paid close attention to the price of iron ore, because it determines whether Australia's major resources of the company's earnings look good.
Australian resources and energy economics had predicted, the average price of iron ore in 2014 to $110 a tonne, Australia to export 687 million tons of iron ore material. If, in accordance with the previous forecast, Australia on the iron ore export earnings could reach $75.6 billion.
On May 21, the international iron ore tons price below $100. For iron ore traders, more bad news yet to come. On June 17, due to slowing demand from China, iron ore prices fell below $90 a tonne for the first time in two years; After 3 months of late September fell below $80. In November, iron ore prices are close to $70.
Also uncomfortable and mines in China, because the tons of price is $80 for domestic mines is a snag.
According to 2013 data, the domestic iron ore unit cost completely 60% (wet basis without tax) at more than $80, "domestic ore of low cost of mining, mainly in the supply of goods in circulation is not big area." China steel net analyst zhang for the "daily economic news" reporter said.
In addition to iron ore prices fell below $80, October rebar contract price closed below the 2500 yuan/ton, the year fell 36%, than the thread index lost 52%. Standing vice President of China metallurgical mines association LeiPingXi, according to the two landmark event in the commodity industry this year's "horror movies".
LeiPingXi held in this month 1, 2015, the developing situation of iron and steel industry chain on the peak BBS, said a few years ago, the iron ore industry profit is higher, has attracted a lot of investment. Domestic mining investment in fixed assets in nearly a decade has increased by 32 times, the average annual growth of more than 40%, iron ore output has increased by 5.5 times, the average annual growth of 18.5%. Because a lot of investment capacity gradually release, especially the vale, and so on four big mines the release of production capacity and expansion, low cost high quality resources caused by market supply and demand fundamentals change, appeared periodic oversupply; At the same time, steel demand in the norm of slow growth or even fallen slightly, iron and steel enterprise main business cost growth is higher than 1 times above main business revenue growth, earnings level dropped significantly.
"These matter enterprise main index showed a trend of deterioration of the blood of the body, the production and business operation and the construction funds very nervous, further intensify the management risk." LeiPingXi said.
Iron ore prices fell sharply is a double-edged sword: on the one hand, the cost of imported iron ore is reduced, advantageous to alleviate the pressure of the iron and steel enterprise management; On the other hand, the price is too low, burn the domestic mines.
"Medium and long-term, low ore prices will lead to project financing difficulties in the development of domestic iron ore resources exploration, less investment, scale atrophy, is not conducive to the stable development of the domestic iron ore companies. And the major international mining companies choose to increase production and expansion, increasing iron ore supplies, imported ore is increased, continue to rise, external dependency for intensifying state of China's iron ore resources are tight constraints, resource security contradictions become more prominent." LeiPingXi said, "this will be iron and steel industry and economic security of our country more significant impact."
Iron ore prices continue to fall, for Chinese companies to invest in overseas mining is not a good news. LeiPingXi said, "as a result of ore prices, the future production capacity will not be able to achieve the desired market profits, increase investment enterprise capital chain pressure, may even lead to it cannot afford to the impact of the price decline, the international large-scale mining enterprise low bid."
In the past 10 years, in addition to China, in order to meet the requirements of China's growing global, accumulative total investment of $96 billion for iron ore resources development, according to the economic information daily "report, the nine years from 2003 to 2011, the Chinese steel industry for iron ore prices more spending more than $3000.
"And iron ore resources in China in order to ensure safety, balance the international market, say, ten years accumulated profits under the condition of less than 610 billion yuan, a $40.6 billion investment to go out development overseas iron ore resources, investment of 937.1 billion yuan ($150 billion) in the development of domestic iron ore resources."
Before September this year, domestic ore production rose 7.2%, mainly due to a sharp increase in the first half of the year. But as ore prices remained low, domestic ore production began to decline year-on-year in September. In September, before the pig iron production year-on-year increase of 2 million tons, and the import of iron ore is year-on-year increase of 100 million tons to 700 million tons.
For zhang said, through the survey found, influenced by price, small mine construction began to decline in May. "Combined with various inventory calculation, calculate 2014 domestic fine powder has decreased from 70 million to 80 million tons, import growth in the whole year of 2014 around 120 million tons, the excess supply of iron ore for the whole year 40 million ~ 40 million tons."
Eighty percent mine still break even or profit
Low grade of domestic iron ore mine, iron content is about 30% more, compared to the imported ore more than 58% of the taste "congenitally deficient".
According to news reports, in addition to the resources condition difference, the tax on domestic iron ore mine enterprises take up to 25 species, the average sales taxes rise about 25%. Data from the China iron and steel association show that sales tax rate highest iron ore mine in 2012 reached 35.42%, every tons of iron essence pink pay various taxes and fees, on average, about 200 yuan.
"It is not only higher than iron ore mine in Australia, Brazil 4% ~ 5% tax rate and also higher than domestic enterprises average of 6%." Cisa vice-chairman concurrently secretary general Mr Zhang said, tax and fee burden is overweight the serious influence to the development of domestic iron ore mine.
In late September this year, the ministry of finance and the national development and reform commission issued a "about comprehensive cleaning involves coal, crude oil, natural gas charging fund announcement concerning the problem, since December 1, 2014, in a nationwide unified to coal, crude oil, natural gas, mineral resources compensation fee rate drop to zero, and stop the collection of coal, crude oil, natural gas price regulation fund.
The tax reform, let domestic iron ore mine seems to see the "tax burden" of hope. But China united steel net, an analyst at jin-long zhu doesn't hold much hope, the landing of domestic mining tax reform.
Coal, oil and natural gas, he said, is the main energy supply, "especially coal, not only used in steel smelting, and the main domestic power generation fuel. Thermal power generation in 2013 accounted for over 80% of the total annual power generation." Jin-long zhu said that the government of coal oil and natural gas tax reform plan, starting point is not an industry's profit and loss, but in the stability of the domestic energy supply. And iron and steel industry is still in "excess regulation period", even if domestic ore production, there will be other imported ore.
Jin-long zhu believes that the overall profitability of iron mining actually above the industry average, also significantly higher than that of the steel industry, in September, 2014 years ago, he said, the country's 3447 rail kuangcaixuan enterprises above designated size, the loss of 741 enterprises, accounting for about 21.3% of the total, "this means that nearly 80% of companies are still in a state of capital preservation or profit." Jin-long zhu said that in this case, the iron mining difficult to rescue tax cuts the cake.
Jin-long zhu also said that even if really lost all taxes and fees, the cost was reduced by 20% ~ 30%, and domestic ore "congenitally deficient", also determines its production cost is much higher than foreign mainstream of imported ore, not competitive.
Related posts