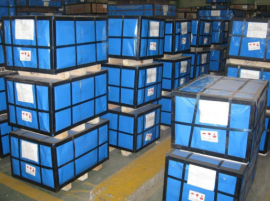 Also fell, still down! Enter 2014, the downward trend in steel prices remain stable. In the first half, the focus Statistics steel prices steel sales settlement price to 3212 yuan / ton, equivalent to 1.6 yuan per kilogram, the price is almost the same with the supermarket cabbage; late August, Steel Association, steel composite price index has dropped 90.63 points, to 2003 on the lowest level since June.
Low profit, overcapacity, weak demand have become the norm in the steel industry must face. How to deal with the government and businesses are still bitter seek a way out.
In the first eight months, the national fixed asset investment growth rate down 3.8 percentage points compared with last year, new housing construction area fell 10.5 percent, electrical machinery, automobiles and other downstream steel industry growth rate down …… macroeconomic same shift into the growth phase the demand for steel products and other raw materials industry will inevitably decline.
Sluggish demand, supply is still flourishing. January to July this year, China's crude steel production increased by 2.7%, the growth rate dropped 4.4 percentage points from a year earlier, indicating that the pressure to cut energy and other initiatives have been realistic effect. However, seven months before China's tinplate production of 481 million tons, and still accounted for half of the global total, the proportion was 50.1%.
The imbalance between supply and demand situation for many steel enterprises swallow profit of suffering. According to CISA statistics, the total profit before 7 months and medium-sized steel enterprises was 11.328 billion yuan, of which the main business profit of 1.929 billion yuan. Although compared with a loss of 3.169 billion yuan last year, has achieved profitability, but still only 0.54% return on sales, the lowest in the industrial sector.
Corporate self-help must rely on technological innovation
Resolve the excess capacity, the industry have a way out. May this year, the Ministry proposed in 2014 out of iron capacity 19 million tons, 28.7 million tons of steel making capacity target. With increasingly strict environmental requirements, banks tighten credit system, environmental protection has been part of the outstanding loans, poor cash flow, high debt, loss of iron and steel enterprises are facing severe or shut down the fate of being eliminated.
Technological innovation is an important means to regain development space. Long Steel Association, Baosteel Group Chairman Xu Le Jiang believes that the steel industry is about to usher in a golden age of technological innovation, "The first is to rely on technological innovation to develop new areas of application of steel materials, access to new market space; followed by relying on technological innovation to solve Steel production process of high consumption, high emission. "
Accelerate the "going out" is also a way out. Early September, Hebei Steel to invest in South Africa's five million tons of steel building project was officially launched, which is so far our largest overseas investment in the construction of the whole process of iron and steel projects. Mr Xu believes that although China's steel prices go "directly to the steel industry in developed countries is not easy to wash a brand," but in Africa, Southeast Asia and other areas of developing countries, there are still many opportunities.
Accelerate mergers and acquisitions, improve industry concentration
"In the competition to be eliminated steel companies out of the market will become the new norm." Mr Xu expected in the next five to 10 years, the steel industry has witnessed tremendous changes in the territory, "the banner of the provincial steel industry, some may fall."
Through reorganization and integration, optimize the allocation of decentralized production capacity, so that backward production capacity out of the market, competitive enterprises can promote stronger, leading the entire industry to become strong.
March of this year, the Ministry announced the "further optimize corporate mergers and acquisitions market guidance" from taxation, finance, land, personnel clear the specific initiatives. Secretary, Ministry of Industrial Policy, said Feng Fei, now push the steel industry mergers and acquisitions, not to engage in "matchmaker", not even how many there are internationally competitive enterprises feeds formation, but to create a good market-based environment.
"For some time, the reorganization and integration of the steel industry dominated mainly by the government, which is by the particular historical stage of development of the decision." Zhang Xiaogang, general manager of Anshan Iron and Steel Group believes that the future of the steel industry will usher in a more open, fair and orderly market environment, reorganization and integration of the industry will be more to follow market rules.
Related posts