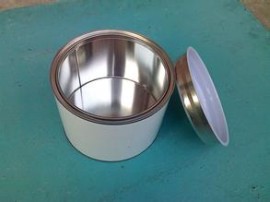 Tinplate cans container surface coating, is in the tin before cutting into the body block, with a proper coating roller coating machine will be painted on the tinplate smooth surface evenly, can control the thickness of coating. The coating machine by itself independently with the feeding device of coating operation, can also be associated with YinTieJi form a complete set of seal coating line.
Turning of stainless steel half immersed in the feed roller feeding plate, will take up the coating after divide evenly feeding roller transfer to the rubber roller. Under the rubber roller have a impression cylinder, with smoking tooth device. When the tin before running to the rubber roller, embossing roller teeth in tight one end of the sheet metal, rubber roller and embossing roller, by pushing tin, finish coating printing homework. By feeding roller, uniform thickness of coating roller and rubber roller and embossing roll gap between control. Because of the tinplate with space between zhang and zhang, so they have a small amount of coating was taken away by embossing roller. Scraper is used to change the impression cylinder shave their clean (avoid tin coated printed on the back of the pick-up), scrape the paint into the material plate, collected after transcatheter back into storage VAT and recycled.
Seam welding parts of tinplate cans can't printed on coatings, otherwise the body blank in the high frequency resistance breakdown seam welding process caused by the waste tank. Therefore, the operator should according to tin tin coating printing area on the rubber roller slot. Coating through slot rubber roller coating printing on tin, margin slot parts of iron is empty cans high-frequency resistance welding parts
We realized that in the actual operation, the size of the slot should be than actual welding blank size 1 ~ 2 mm wide, such coated printed blank size to conform to the requirements of the empty cans welding.
Coating after printing tinplate cans by the conveyor belt shipped to the chamber, the loop runs chain driven by drying room temperature curing. Chamber is generally divided into three parts: the first part is the iron sheet preheated to the baking temperature; The second part is the constant temperature oven; The third part is to make the iron sufficient cooling. The baking time take 10 ~ 15 min. After this version with automatic type discharge machine remove iron, into after coating is qualified through inspection, physical and chemical testing can process.
Related posts