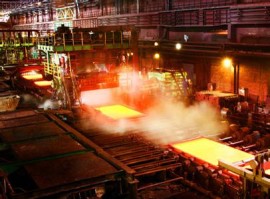 Afew days ago, Indonesia's steel industry association executive manager of yue. He s put los (HidajatTriseputro) said, with a large number of infrastructure projects initiated, confident will be able to achieve the target. "If all qualified engineering use goods, I think that next year, China's steel production capacity utilization rate will rise to 80%, even higher, this year, still no significant changes in the iron and steel industry."
Hilda yue said that Indonesian iron and steel industry development has not yet reached the highest limit, although in the middle of this year, infrastructure projects have begun to implement, but the domestic steel prices still cannot compete with Chinese steel imports.
Hilda yue said the government must be issued by domestic industrial policy, which can promote the development of Indonesian iron and steel industry, in addition, the government has also been promoting the implementation of usage regulations, improve the products consistency, which can promote the domestic iron and steel production capacity. "If the government can use consistency and implement products, iron and steel production capacity can reach the limit of next year."
Hidayat yue, demand for steel is next year than this year doubled, reaching 28 million tons, at the same time, this year, the actual demand for steel is expected or reached 14 million tons.
The government also hopes to curb imported steel unfair trade, downstream industry choose to use the situation to push Indonesia imported steel, because of cheaper, even, if imports reached 10 million tons, will be absorbed by the market. "Steel prices can't lower than production costs, therefore, must coordinate the downstream industry, limited government obligations shall be used for engineering products."
Hilda yue said, adding that still have to strictly control the import of steel. "Must strictly control the import of steel, for imported products have been in the domestic production, but the price of goods can't compete with imported products, requires the protection of the government."
Steel import regulations in the upstream industry to carry out, also must support in the downstream industry coordination, prior to that, the government has to formulate, raise the most favored nation (MFN) import duties, has been increased from 0% to 5% and 0%.
Even so, Mr Da yue thinks that the policy is not a significant impact, because most of the iron and steel importer has signed free trade agreement (FTA) with our country. "Next year, hope that the government is mainly for the downstream industry, develop more specific non-tariff protection policies."
Related posts