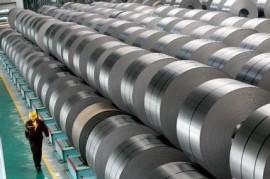 By the end of 2014, China's crude steel production capacity has reached 1.16 billion tons, if China is willing to, we can produce 70% of the world's iron and steel. In fact, China's crude steel production in 2014 is the nine times, 4.8 times is the sum of the 28 countries! There are media reports that China's steel, even in the next few years does not produce only on inventory will do the trick.
Run counter to the excess capacity, inventory surge, represented by real estate in the past of the downstream steel industry growth is slowing, and steady growth such as "iron and base construction investment scale of song, did not see the implementation of, resulting in a decline in steel demand. The national bureau of statistics data show that in January to August, the national investment in fixed assets (excluding farmers) rose 10.9% year-on-year, growth than fell 0.3% in January to July, down 5.6% than the same period last year; The national real estate development investment grew by 3.5% year on year, more than 1 month to 7 month fell 0.8%, compared with the same period last year dropped 9.7%. New construction area of the building fell 16.8% year on year, real estate development enterprise land acquisition area fell 32.1% year on year; In August, the national industrial output rose 6.1%, than in July rose 0.1%, growth than the same period last year dropped 0.8%; The apparent consumption of crude steel is 477.48 million tons, fell 27.66 million tons, fell by 5.5%, compared to drop to expand 2.2% in 2014, bigger than crude steel output fell 3.5%. From the overall situation, macroeconomic under downward pressure in August, steel market demand has fallen.
In addition, the increasingly fierce market competition, the steel mills and steel trade, in order to ensure the market share of a vicious price war, between the steel price is an exodus, the steel industry overall losses widened, tons of large and medium-sized steel mills profit losses since last year 18 yuan to 50 yuan/ton. Excess capacity and excess capacity is not only a low-end products, most of the relatively high-end products also exist serious problem of excess. The steel association statistics, in January to July, steel iron and steel enterprise settlement price fell 756 yuan/ton, a 28.38% drop. In late August, the main varieties of steel average price compared to the end of last year, rebar and wire rod fell 797 yuan and 904 yuan per ton, hot rolled coil plate dropped by 1197 yuan per ton, relatively high cold rolled sheet and galvanized sheet fell 1346 yuan and 1369 yuan per ton. More than the first half of listed steel companies main business revenue growth are negative, is the largest decline jisco HongXing (600307, shares), fell 37.99% year on year; Report of the large and medium-sized steel mills overall sales income is 1.14 trillion yuan, down 18.2% year-on-year. Steel mills advocate business wu income falling across the board, the production and operation situation is very serious.
Raw materials, with a fall in demand for domestic steel, steel mills for iron ore demand synchronization also reduce, iron ore market has been an oversupply. And the three mines abroad using low cost advantage, inverse city expansion, from the Chinese market, the existence on imported iron ore in China more than 80%. Early last year, imports of iron ore price is $133 / ton, now gradually stabilized at about 55 dollars/ton. Imported iron ore prices fall, also makes the lost cost is the important support steel prices. While the dollar is about to enter cycle, and will bring plunge in commodity prices, steel prices rebounded difficult period.
Related posts