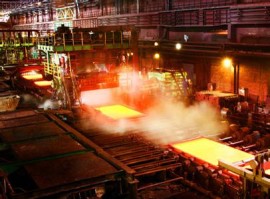 As China and Latin American countries have the upgrading of strategic cooperation, the new wave of a wave of investment will be swept across Latin American countries, the region's infrastructure, railways, mining and other fields will release the steel demand, to provide good opportunities for other iron and steel enterprise's investment.
First of all, Latin America is rich in natural resources. In the world oil content and production pattern in Latin America, second only to the Middle East, Russia and Africa. Brazilian iron ore reserves, high grade, high yield and output ranking second in the world.
Second, the Latin American market with enormous potential. Latin America is on track to consumption growth of high-speed, consumption ability there is still room for further growth. Although the problem of social economic structure, the current consumption stagnation of Latin America, but if Latin America successfully achieve industrialization, consumption will be quick release.
Third, China and Latin America can play their respective advantages and special features. Many Latin American countries close to China's economic development level, industrial structure and mostly is not sound, the great part of China's relatively surplus production capacity is very suitable for the development of Latin America.
The risk of investment in Latin America, meanwhile, also nots allow to ignore.
Latin American labor force is relatively small, uneven development between many countries, more external debt. Compared to Europe, America, east Asia and the Middle East countries, the Chinese in Latin American countries are rusty. Chinese companies in Latin American countries such as politics, economy, culture, law fully understanding of the investment environment, the information is not comprehensive. China as the main international communication in English language, and Latin American countries have more give priority to with Spanish and Portuguese. At the same time, China and Latin American countries in values, ways of thinking, there were significant differences in corporate culture, the respect such as mode of operation, for example, shougang iron ore is often encountered in investment, Peru, local strike. This difference increased the difficulty of Chinese enterprise investment in Latin American countries.
Related posts