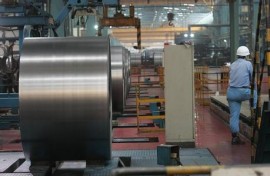 Shijiazhuang, according to customs statistics, 1-3 months, hebei import and export gross income reached RMB 78.46 billion, and decreased by 6.4% from a year earlier. Exports of 49.38 billion yuan, up by 11.1%; Imports of 29.08 billion yuan, down 26.1%.
From the point of export products, steel, auto parts export growth faster. 1-3 months, steel exports of 16.63 billion yuan, up by 35.6%; Auto parts export 2.07 billion yuan, an increase of 22.2%. That month, march year-on-year exports in our province overall decline, although steel keep growing, but growth decline rapidly, steel exports rose 2.4% during the month, mechanical and electrical products, garments, textile products fell 22.1%, 22.1% and 22.1% respectively.
Import a sharp drop in gross is mainly caused by commodity import prices. Occupy imports more than half of the total cost of iron ore in hebei province, for example, 1-3 months to import average price of 430.1 yuan per ton, fell 45.9% year-on-year, so although iron ore imports rose 25%, but value dropped by 32.4%, and down the province's total imports.
From the point of different types of enterprises, private enterprises import and export ranks first. 1-3 months, private enterprises import and export of 40.92 billion yuan, increased by 1.2%, to lead all kinds of enterprises.
Related posts