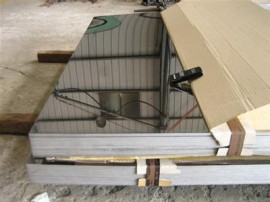 On October 18, Tata Steel (Tata Steel), in a news release its long products production center is located in the UK scunthorpe plant and Scotland rana g factory will lay off more than 1200 people. We have learned, tata steel long products division of British employees 3500 people, most will face the possibility of layoffs.
In fact, since this year, with the further deterioration of the global steel industry situation, including arcelor mittal (ArcelorMittal), the American iron and steel company (USS), AK steel companies in the United States, Russia's Evraz group (Evraz), such as the world's large iron and steel enterprises have different amplitude of layoffs, and Asia, including Japan's Nippon steel live gold and JFE, a lot of iron and steel enterprises have different amplitude of output shrank. This will be the prelude to a tide of new steel mills layoffs production?
British steel lay-offs
, tata steel plans to shut down this in all the three factories located in the UK (scunthorpe, rana and mather bakewell), including scunthorpe plant cut 900 jobs, rana g factory cut 270 jobs in Scotland.
At present, the scunthorpe plant 4 only 2 blast furnace in operation, the main production profiles and rail. This year, the profile market share has increased to 41%, but still much lower than 75% ~ 80% share of the seven or eight years ago. , tata steel will always strive for long products business to sell Klesch company (a london-based, engaged in the commodity and the industrial production and trade enterprises), unsuccessfully.
In order to appease local workers, tata steel will jointly established with the government fund (including tata steel paid 3 million pounds, the government paid 6 million pounds) to support local workers skills training and re-employment, and create more jobs. In addition, tata Steel subordinate British Steel corporation (UK Steel) also promised to provide within five years of not less than 10 million pounds for British Steel community organization development.
In fact, in July this year, tata steel has announced the British south Yorkshire Rotherham steel 720 jobs. The statement stressed that the move to adjust its strategic layout, focus on aviation with high added value steel, improve the profitability of the company. "Tata steel will be transferred to the next phase of development strategy, including aviation, high value-added steel applications. The adjustment will lead to reduce the number of employees, mainly concentrated in Rotherham mills." Tata steel in the Bombay stock exchange filing shows.
The BBC on the 16th of this month, according to the report, tata steel plate in its production of darfur zell factory Dalzell and Clydebridge factory will also face job cuts.
Tata steel cut production only since this year with Britain's iron and steel industry embarrassment a microcosm. Only in this month, more than 4000 British steel workers are laid off.
According to the Wall Street journal reported that over the past few weeks, the British steel industry is not an easy life, constantly in succession steel mills collapsed layoffs. Thailand SSI steel companies to close plants in red card in England, cut about 1700 jobs; Partial collapse of the British kaparo steel company, also cut 1700 jobs; In a month ago, tata says it wants to shut the South Wales (South Wales) Wayne (Llanwern) of the section steel mills, a move that would make 250 people out of work.
Tata steel with 17000 employees in Britain, the number of the British steel workers more than three-quarters of the total. Tata steel, therefore, the massive job cuts in Britain caused Britain's great worry, worry about further sparked a chain reaction of downsizing.
Steel mills layoffs spread around the world
Tata steel in the UK, Ken thorpe long products center staff at the same time, also shut down of the Blume in Germany mill factory, the factory main plank distribution business in European market. , tata steel, said the company has taken many measures to maintain the operation of the factory, but as a result of reduced demand, plate prices, the company finally in the last week to make a decision, stop the plant's operation, it will cause a loss of 50 jobs.
In July, the Russian mining giant evraz group subsidiaries in South Africa, said influenced by steel prices and huge competition pressure, the company plans to cut more than 1000.
AK steel company said at the end of October, the United States, in order to adapt to the market demand, the company intends to suspend Kentucky Ashland factory blast furnace and related operations, but still maintain the supply of auto industry hot galvanizing production line running. This is AK steel companies in the United States claimed that another major production plan, in October after the warning to employees in the granite city factory, working on merger flat material business in North America. According to the notice of bill, before production and jobs to have 60 days to inform the deadline, if market conditions did not improve, production will start in the middle of December, and likely to remain more than six months.
Is also in the United States, the United States steel company recently is preparing to suspend Minnesota Keetac iron flint processing plants, a move that would also result in 230 workers facing unemployment. At the beginning of the year, the United States steel companies also announced that shut down a factory in Ohio lorraine, and cut 614 employees. According to media reports, since march this year, the American iron and steel company has accumulated more than 1100 job cuts.
Although these steel mills will cause due to cheap steel imports, but in fact, in recent years, along with the European and American countries industry to the development of high-end manufacturing, steel production cost especially high Labour costs, equipment structure, and the government policy on the long-term protection of iron and steel industry, lead to the low benefit, international competitiveness. In Europe, energy costs and long plagued energy-intense are the important factors of iron and steel enterprises.
Tata steel Europe, chief executive of Koehler said, by contrast, the running cost is much higher than other European countries, and Britain's energy costs before the relief measures take effect is still not competitive.
Yet the lay-offs did not stop at Europe and the United States.
In Asia, Japan's top two live gold Nippon steel and JFE steel enterprises in the first quarter of fiscal 2015 (April 1, 2015 to June 30, 2015) deep cuts of 8.6% and 8.2% respectively. Kobe steel, Japan's kobe built machine will cut about 200 jobs at the end of the year, the amount of 10% of the total number of employees.
On October 27, the ministry of human resources and social security ministry spokesman also confirmed that China's chemical industry, steel and other industries with excess capacity is a relatively common jobs.
Production overcapacity will lead to layoffs
Recently, the global excess steel production capacity has become a fact. Since this year, steel production country and the area of steel year-on-year declines.
According to the world steel association crude steel production data released on October 21, in September, 66 in the world steel association statistics of the country's crude steel output of 131 million tons, down 3.7% year-on-year. And major steel-producing region of crude steel production are declining trend. Asia crude steel output fell 2.0% year-on-year, the European Union yield edged down 0.3% year-on-year, north American production plunged 6.8%, compared to the commonwealth of independent states (cis) output fell 5.8% year on year. In September 2015, China's crude steel output of 66.1 million tons, down 3.0% year-on-year.
China, meanwhile, said Mr Xu, chairman of baosteel group, if from Europe, the United States, Japan's previous experience, painful restructuring after the steel industry, steel production is down about 20%; China eventually will appear this kind of circumstance, regardless of how long it takes.
, according to a report in the Wall Street stories, ten years from 1974 to 1984, the British steel industry workers from nearly 200000 people dropped to less than 70000 people; Iron and steel workers from more than 500000 people in the United States dropped to 230000 people; West Germany from 230000 down to less than 170000; France from nearly 160000 people fell to less than 90000, Luxembourg fall by half from 24000 to 24000. At the same time, in 1870, accounting for almost 40% of the UK steel industry, the world's steel production 1980 annual output accounts for only 2.7% of world output. Since the 1980 s after the world steel industry has experienced several recovery, however, these industrial national steel industry employment has never returned to pre-crisis levels in the 1980 s.
And according to the BBC, the British steel industry practitioners currently only less than 20000.
Steel production capacity decline inevitably means a decrease in the number of employees, iron and steel production is not the ultimate goal of layoffs, but strives for the survival of the world iron and steel enterprise transformation development results. Analysts believe that in the global steel industry current situation, "layoffs" further expansion will be a big probability event, can appear even between large-scale steel mills "transnational JianBingChao", this is through the European and American countries before, maybe is the path of the future again.
Related posts