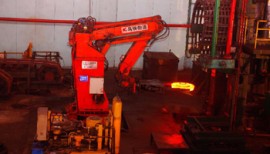 In the domestic steel overcapacity, a prolonged slump in steel prices in the larger environment, China's total steel exports has bucked the market trend. Platts provides data show that as of July this year, China's steel exports reached 49.07 million tons, an increase of 36.9%. Forecast this year, China's steel exports will be a new high since 2003. Many people in the industry and therefore the future of the steel industry produced a positive outlook: Since domestic overcapacity, that the excess capacity exported to overseas, everything will be fine, both to resolve the excess capacity, but also stable development trend of domestic steel prices.
What is really the case? When the domestic steel market Aihong orders pour in from overseas, "heaven big pie", should celebrate something. In fact, faced with a huge export market, domestic steel prices but they are the victims.
First, China's steel prices in the international market is very low. This year in July, steel export price of 786 U.S. dollars / ton, while the import price of $ 1,285 / ton. The steel market in the "export price inversion" phenomenon, and spreads widened to the highest since February 2013 level.
Because of the huge price difference exists, making the steel prices in the export market frequently encountered trade frictions and trade friction in the past is being transferred from developed countries to developing countries, even in developing countries but also for China's steel "unsatisfactory."
Low price is a very important reason is that China's steel market there is not high quality and long-term instability. 2011, focusing on medium-sized iron and steel enterprises in the production of crude steel, 61.1% are ordinary quality steel, affordable products mainstream, part of the existing level of standard products is only developed in the 1980s of the last century.
Of course, difficult to improve the quality of steel behind including ore quality, refining, management level and many other factors.
Can not keep up with the market situation is undoubtedly an important factor. There is a big difference between the Chinese state-owned enterprises and foreign steel similar enterprises, is China's steel enterprises often have more than one location or neighborhood its own mines. There is no mine own high degree of Baosteel only market.
The existence of its own mines, largely because of the planned economy era, the state-owned steel enterprises to more easily obtain raw materials, and take self-production and refining models, with ore mined from the last complete industrial chain made ​​of steel. But in the international market, the quality of corporate-owned iron ore mine is not necessarily better than overseas, although mine in sight, but the overall mining costs are not necessarily lower than the purchase of ore from overseas procurement and transportation costs.
However, due to various reasons, companies are unable to get rid of the burden that came with the industrial mining, etc.. This is why even overcapacity, knowing a loss, because steel companies continue to produce this.
Different from other industries, most of our state-owned iron and steel, but also the local taxpayer. Important pillar of both the local finance, but also the local community development boosters, because steel prices tend to attract a large number of jobs, and thus formed a relatively complete industrial chain in the region. Compression capacity, even out of some steel prices will have a greater impact on the local GDP. And whether it is compressed capacity or out of business, will involve resettlement, land plant re-use, environmental remediation and a series of thorny issues.
It also led to some extent steel overcapacity problem, "the more pressure the more." January to August, the national steel output 742.1 million tons, up 5.4%, while the average price of steel from 2012 full-year 4468 yuan / ton in the first half of this year dropped to 3212 yuan / ton, caught in a vicious cycle. Showing a reduction in production capacity, "press gourd dipper float" posture, a place cut, while other places are increasing, and even part of the increase, not necessarily more environmentally friendly than the partial reduction of efficiency.
In other words, if you want to break the vicious cycle now, eliminate backward production capacity, industrial upgrading is still the main directions of domestic iron and steel enterprises. This depends on the establishment of a sound and reasonable steel capacity withdrawal mechanism. Domestic steel demand in the short-term weak premise, the overseas market is indeed one steel prices breakout direction. But the problem is, if you want to occupy more say in the overseas market, the fight can not be quantity, but quality.
We know that with China's steel prices in the international market competition, not day trade in Northeast Asia steel ring only belong to China and South Korea, other ASEAN countries are also developing their own steel industry.
For domestic steel prices, the reduction of low-quality steel production capacity, improve the proportion of high-quality steel to achieve the transformation and upgrading, is to break the current steel market a series of bottlenecks and conflicting fundamental means.
Related posts