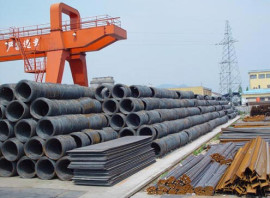 The developing mode of the domestic steel industry scale expansion finally gradually into the "past tense". In 20, "2015 China steel market outlook and 'my steel" annual meeting of the China iron and steel association, relevant personage to provide the latest data show that China's steel industry capacity expansion has been cool, industry benefit, though up slightly, but in the industrial field is still at the bottom.
According to the information provided cisa, the domestic steel industry investment in fixed assets year-on-year decline. The first 10 months of this year, black metal smelting and rolling processing industry investment of 400.4 billion yuan, down 6.1% year-on-year, of which only 4% of ironmaking investment. This suggests that abandon the expansion mode has gradually become the consensus of the industry, and the investment structure continues to improve. In the steel industry investment, mining, environmental protection, steel deep processing has more weight, reflects the investment subject more sober and rational than ever before.
But the steel industry overcapacity situation is more severe. 2014 national expected crude steel output of 81800 tons, up 1.67%; Us crude steel apparent consumption of 737 million tons, down 2.25% year-on-year. According to the relevant departments to statistics, China's crude steel production capacity is close to 1.2 billion tons, dissolve the massive excess capacity will continue to be a long-term and arduous work.
Cisa believes that steel demand growth slows, excess production capacity, low industrial concentration, multiple factors, such as the original fuel prices in recent years, the domestic steel prices continue to shock the downside, especially since this year, months of steel price index below 100 points. The first 10 months of this year, thanks to the original fuel prices decline than steel prices decline, China steel association member enterprises an average return on sales of 0.75%, although slightly more than 0.61% last year, but still in the industry at the bottom.
The personage inside course of study thinks, the steel industry to resolve the excess capacity and structure adjustment has three way: one is through ascension industrial concentration, improving active adapt to the market, regulating the supply and demand of steel industry self-discipline and effects. The second is to strengthen the construction of brand and guide the enterprise to the high-end, realize the orderly competition, the industry "ZhiLiangZhan", not "price war". 3 it is to enhance the level of internationalization and the internationalization should be resources, market, capital, talent internationalization, is by no means a "sell" steel.
Related posts