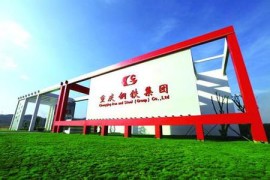 On December 25, chongqing iron and steel co., LTD. (hereinafter referred to as the chongqing iron and steel), according to the announcement received longevity in chongqing economic and technological development zone (hereinafter referred to as the "longevity by the open area) and longevity area finance bureau approval, respectively arranged 280 million yuan and 133 million yuan subsidies and fiscal interest discount allowance. Two a total of 413 million yuan, at present have been received.
According to the announcement, how location of chongqing steel's longevity by the open area to arrange awards and subsidies to the chongqing iron and steel 280 million yuan, mainly comes from in new product development, the three gorges reservoir area ecological environment protection, energy conservation and emissions reduction of remarkable achievement and social contribution.
Longevity by the open area management committee director, told reporters, to a sintering, longevity, iron and steel metallurgy industry circular economy industrial chain which formed in the comprehensive utilization of steel slag on the "chongqing steel scrap steel slag to slag powder, slag cement and concrete products" of the circular economy industrial system architecture, introduce the circular economy enterprise 10 units, can save their money back, or about 1 billion yuan a year. "These projects are the long industrial chain, and formed a more competitive industrial clusters, promote the development of circular economy." Industry has longevity enterprise by the past, he said, "soldier" "combat group" to the enterprise development.
According to the controller introduces, local to a sintering, introduced 16 homes in iron and steel metallurgy and related enterprises and basic construction in chongqing steel hot rolled sheet, such as product processing as the leading production base of iron and steel metallurgy, formed covering selecting mining, smelting and deep processing of iron and steel industry chain. Under the condition of the domestic steel industry broadly lower, longevity and 2013 iron and steel metallurgy and related industry surrender papers is the output value of 28.5 billion yuan. Is expected, according to the existing in enterprise and project under negotiation, longevity and the district of steel and metal rolling industry is expected to achieve industrial output value of 100 billion yuan in 2020.
The personage inside course of study thinks, the open area of the longevity of chongqing iron and steel environmental protection, energy conservation and emissions reduction, new product development work incentives and subsidies, is based on long-term prospective measures, both for the enterprise XieWei needy and help enterprises to go to meet the requirements of national ecological civilization construction new iron and steel enterprise development way, and for the future development of the economy benign development foundation, is fully staffed.
Chongqing steel group's former deputy general manager, the environmental protection move headquarters former deputy commander Dong Ronghua recalls, chongqinsteel relocation is not a simple copy, move more than pollution. The entire process of a new, comprehensive adoption of new technology, new equipment and new process, two-step implement building to plate strip for the leading product of the Yangtze river upstream fine steel production base, and realize the material manufacturing, energy conversion and resources recycle three big functions.
It is understood that the new chongqing steel factory to cancel the steam pipe network, railway, pioneering "dry RH vacuum refining technology" was listed in the fifth batch of "national energy conservation technology promotion directory", implements the industrial water 100% recycled, zero discharge waste water, waste gas, waste residue amount full recycling. 21 sets of generating units, full use of ironmaking, steelmaking, steel rolling and pressure of remaining heat and gas for power generation, power spontaneous of over 2 billion degrees, has 80% of the total electricity consumption of whole factory area.
The reporter understands from chongqing steel safe environmental protection, chongqinsteel longevity district 6.5 million tons of steel whole system environment protection facilities investment accounts for about 12.07% of the total investment, which is about 2.689 billion yuan, built to use the environmental protection facilities of a total of 79 units (sets), environmental protection facilities operation and interest, depreciation cost is much higher than the industry average.
Chongqing changshou district bureau of chongqing iron and steel arranged 133 million yuan in fiscal interest discount, used to make up for the company from 2010 to 2012, caused by environmental protection move huge cost is much higher than the industry average financial cost.
Chongqing changjiang securities red Zheng Wei road sales department general manager huang pointed out that the sintering borrowing move cause longevity district financial burden too heavy, after the production of the financial cost of per ton steel is far higher than the industry average.
Zheng Wei analysis said, "chongqing steel annual financial report shows that the company generally finance charges for more than 10, one hundred million yuan a year, the local government according to the proportion of 10% fiscal interest discount, belong to the proper arrangement, is advantageous to the enterprise during the battle, and protect the interests of small and medium-sized investors."
Related posts