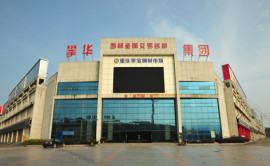 Chongqing on March 27, the largest steel trading market – chongqing climbing, bao steel market operation. As a key construction projects in chongqing, climbing bao steel market is the largest scale and highest level of chongqing, the latest and most complete supporting domestic first-class metal material trade names, the annual turnover is expected to reach hundreds of billions of dollars.
Making a new sample of steel market
Po steel market is located in Jiang Jinshuang climb new district of chongqing, top 500 private enterprises by the national climbing group invested 1.5 billion yuan to build, planning land area of 500000 square meters, a total construction area of 380000 square meters, can accommodate more than 1600 enterprises or businesses.
Climbing bao steel market currently operating a phase of the project "chongqing climbing treasure steel trading center". Phase ii shear processing and distribution center will be completed and put into production in June this year, the third phase of the electronic business center will be built this year to open.
China climbing group chairman li xh, bao steel market will be climbing, which is based on electronic commerce and modern logistics, build complete industrial chain of new service system, including trade, logistics, finance, warehouse, realize the online O2O mode, full retail and wholesale business format of new samples of steel specialized market.
In the western region will be fully radiation
Bao steel market is located in the Jiang Jinshuang fu industrial park, climbing is chongqing in western new city area, is located in chongqing "half an hour economic circle", close to the freeway, chengdu-chongqing high-speed arteries and the advantage in transportation is obvious.
Today, in bao steel market surrounding, climbing has gathered the double f district, west wing micro electric industrial park, bishan industrial park, industrial park, Kowloon industrial park, as well as the 1 million suzuki car park and so on a number of large projects, formed a strong logistics and industry cluster. Treasure climbing after the construction of the steel market, will not only meet the demand of chongqing steel trading, will also radiation cloud, expensive, sichuan, Tibet, xinjiang and other regions. At present, bao steel market has been climbing signing merchants to nearly 500, nearly 400 merchants, most merchants are moved from the city proper of steel market.
Related posts