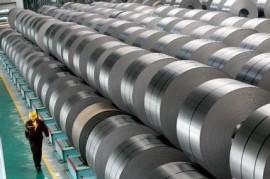 According to the report, the European and American countries after countries such as China's steel exports offensive, subsequently launched anti-dumping investigation. Concerns on the market, excess steel will return to Japan and southeast Asian countries. Daiwa securities analyst tail battery yishen ichiro said: "China's downturn triggered by the global steel market is likely in the medium term for".
Coverage analysis, points out that South Korea's posco company and Taiwan China steel company production of steel in the Japanese market has a certain influence, is poured into at a low price. In addition, global frequent trade friction also make excess steel intensified. This summer, the global stock market turbulence has accelerated the dollar-denominated steel prices fell. Therefore, since August of the Japan imported steel prices are thought to have further to fall.
It is understood that the imported steel prices has spread into the domestic market. Japan's automotive steel demand, such as slow recovery, although steel imports are falling, but there is circulation enterprises, said: "the price is still very low".
, according to Japanese steel union estimates of Japan's main varieties of steel imports by an average of unit price, after July import price of hot-rolled coil is about 53000 yen (about RMB 2809.8) per ton, fell 13% year-on-year, used in construction and civil engineering of thick steel plate down about 10%.
Related posts