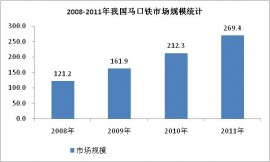 The overall size of tin industry in 2010, the domestic demand for all kinds of tinplate cans of about 700 billion a year, quite a number of raw materials imported. Rise with the enlargement of the market gap, tinplate industry trends, market size by 2011 to 26.94 billion yuan.
2008-2011, big small and medium-sized domestic tinplate enterprise productivity increases year by year, which is caused by corporate decision makers for the market demand forecast. But as the market for tinplate falling demand. 2011 tin industry capacity growth, scale of 4 million tons.
2012-2016 annual capacity prediction
With the acceleration of logistics, people also rise in demand for fresh food, offset the demand for canned food. Canned food for tinplate falling demand, weakened the market for tinplate expectations. Another positive factor is the market for metal packaging demand will also increase the demand for tinplate, this judgment tinplate production growth has the important instruction function for the future.
Related posts