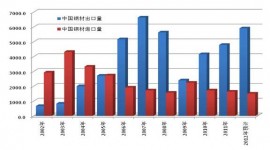 It is understood that in August the terminal needs to purchase admission in advance, resulting in steel prices in September orders decline, coupled with the month below the 5 million tons of steel exports, causing the imbalance between supply and demand in the steel industry, steel shock downstream. To the end of September, China's domestic steel market prices have been at a low level during the year, the main varieties of domestic individual or even below average lowest price during the year.

Analysts pointed out that once the steel prices, steel prices will be at full capacity. Capacity is like a nightmare, and steel "go hand in hand." Current continued high crude steel production, which restricts the upstream steel prices. Data show that in September, China imported 74.58 million tons of iron ore, a record high, the average import price $ 126.18 / ton, an increase of 6.18%.

Meanwhile, CISA latest data show that in early October the estimated average daily production of 2,128,100 tons of crude steel country, ten-day decline of 1.11 percent, ending the continuous upward trend Lent. "The main factor is due to the National Day holiday, as well as steel prices weakened profitability, capacity expansion slowed slightly, but crude steel output remained at a high level," Steel Union IT analyst Shen Yibing expressed. It is worth mentioning that, "My steel net" (rebar, wire rod, hot rolled coil, cold rolled coil and plate) survey data on domestic varieties of the same caliber five steel warehouses, as of October 11 , total domestic steel inventories to 15,149,700 tons, compared with the pre-holiday (September 27) increased 482,400 tons, an increase of 3.29%.
After the National Day holiday, the domestic steel market supply pressure has increased, and this can only be released by the incremental pressure downstream demand. "If the latter is still no obvious decline in crude steel production in the case of weak market demand, steel prices or to re-enter the disadvantaged adjustment." Overall, October domestic downstream demand for steel or incremental, but not very significant increment . "On the current growth rate of steel supply, the market needs time to digest inventory, and the arrival of new goods resource cost is generally low, in the context of pressure on the stock, expected short-term market price of steel will be weak shocks run."

In addition, market participants expected, entering the fourth quarter, due to climatic reasons, north China air pollution haze may appear severe weather, local governments will actively implement the contingency plan. "According to contingency plans, Tangshan steel mills may temporarily cut 20-30% cut in the area once implemented, will have a positive significance Steel City."
Related posts