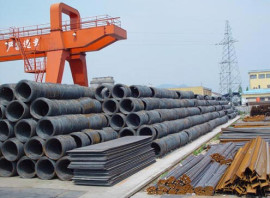 China steel is "erosion" around the world. An economic slowdown and overcapacity led to filled with steel in the domestic market began to go overseas, the first 10 months of this year's steel exports hit a record high, more than in 2007. "Deflation" steel from China could spread all over the world.
On December 1, "Japanese economic news" reported that, according to Chinese customs statistics, China's first 10 months of this year's steel exports rose 42.2%, to 73.89 million tonnes. Nine months rose 73.2% to 8.52 million tons, an all-time record. October is further increased to 8.55 million tons. If the export growth continues, this year's exports is expected to exceed 90 million tonnes.
Relevant personage introduces the industry, the rapid growth of China steel exports because domestic market prices widened the gap with overseas markets. According to the information platform of great wisdom, China's steel composite price index in the fall at a speed of more than the world average. Due to the average export price than the domestic average price per ton higher than 1500 yuan, the Chinese companies also appeared to export to ensure returns.
According to the China iron and steel association statistics, in the first nine months of this year, China's steel exports are mainly concentrated in the association of south-east Asian nations (asean), South Korea and the Middle East, the three areas account for 54% of steel exports. At the same time for the European Union and the United States export growth is more than 60% year-on-year.
A Japanese steelmakers executives worry ground to say: "cheap Chinese products into the international market will increase in steel prices downward pressure."
The possibility of trade friction is increasing. The U.S. department of commerce on November 13, for Chinese steel wire products has made the anti-dumping and anti-subsidy final decision. The European Union began in August for chinese-made electromagnetic steel anti-dumping investigations. National awareness of China's iron and steel products is improving.
Related posts