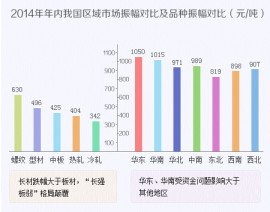 Experts said the foreign anti-dumping will not affect the domestic iron and steel exports
According to relevant statistics show that in January – in October this year, China's steel exports totaled 79.3 million tons, including steel exports in September and October are more than 8.5 million tons, in order to level, China's steel exports exceed 80 million tons this year is certain.
Since 2000, China's steel exports accounted for the proportion of the total steel exports rose from 4.8% to more than 7% of the 2004 and 2004, has risen to over 15% in 2013. Under the export levels, China's steel industry also would be the exporter in the world.
It is worth mentioning that, according to data provided by the institute of metallurgy industry in 2014 is expected to domestic crude steel production 820 million tons, are visible in the first ten months of steel exports is less than one over ten of the total crude steel production this year.
Lange steel net analyst zhang Lin said in an interview with "securities journal" reporter: "although China's steel exports in the world first, but a year's exports even less than a month of domestic steel production, this dramatic drop reflects the domestic iron and steel industry to deal with the problem of overcapacity situation is still grim. Can be predicted that in the future in steel exports domestic efforts may further increase, in order to alleviate the pressure of excess capacity."
"Enthusiasm" to resist the steel exports anti-dumping
This year, China's steel exports show explosive growth, under the background of sluggish domestic demand continues to weaken, steel mills started to increase exports is understandable.
According to statistics, rizhao, laiwu steel, jinan, shandong area stone cross, yong feng in major steel mills have plans to export, exports amounted to 200000 tons, especially coastal steel mills, twice the exports to domestic demand. On the other hand, the market downturn in steel mills to reduce production or service form adjustment, according to the need to adjust the production structure, such as wuhan, baosteel steel structure production.
Not only that, due to the steel market "to buy or not to buy up", and now have been gradually into the winter in north China, the market demand will further reduce, social inventory or will continue to increase. It will also further promote domestic steel companies increasing exports. But under such a crazy exports, Chinese steel mills will undoubtedly become one of the biggest international anti-dumping target.
But industry experts are stressed that even if the future of China's steel export enthusiasm is more and more high, but also to remind the domestic steel mills steel exports, turned into a dumping "exports not restraint, will cause friction, China's iron and steel is also often resist abroad, because so much is export, has affected other countries' economic stability".
, Zhang Linxiang reporter said, "even if is facing the pressure of the anti-dumping, steel mills will not relax on steel exports, export directly because good is to increase the order of the steel mills and steel trade, it is for domestic steel mills can't resist the temptation of, can relieve excess pressure steel mills carries directly. In order to deal with anti-dumping, in terms of tariffs on countries may be control. Such as export tax rebates cancellation, or tariffs, to prevent those who do not encourage the export of steel varieties."
In our country at present the PuGang (excluding the carbon steel alloy) cancel the export tax rebate, rebar, wire and so on as low value-added of construction steel export tariff rate is 15%, and exports of special alloy steel products access to the corresponding tax preferential policies (specified in the customs tariff, boron content of 0.0008% and above by alloy steel products can declare, can enjoy export tax rebate policy), from 5% to 5%.
And for the future situation of China's steel exports, Zhang Linyong "have" to sum up, the steel mills in China mainly long process production process, as the iron ore prices, the cost would be directly; and then the area of strategic deployment, port and railway highway infrastructure, open directly driven by China's steel output ".
Steel demand or flat this year and next year
Since 2006, the first time that China has become the world's largest exporter of iron and steel, then in 2007 and 2008 annual hold this position, although exports in 2008 decreased by 14%, to 56.2 million tons. In the third quarter of 2008 after reaching the peak of 21.3 million tons of export, exports in the fourth quarter fell to below 10 million tons. But only for exports of 2009 tons in the first quarter of 2009, down 57% year on year. Import the basic flat with last year, to 4.1 million tons.
In fact, during 2010 to 2013, China's steel exports have been in a state of steady growth, not only in ascension, the total export area are expanding. In 2010, for example, China has realized the net exports (exports to deduct the total imports) steel 26.13 million tons, by as much as 278%. But 2010 years later, the export growth compared with the present a downward trend.
Compared to the neighboring countries, South Korea's crude steel production in 2013 is 66 million tons, the output is 29.2 million tons, accounting for 44%, while Japan this data also reached 38%. "China's steel export competition is mainly Japan and South Korea, but compared with its neighbours can be found that the development of Chinese steel industry is still in the abnormal state, the monthly output of steel are now more than 9000, ten thousand tons, exports accounted for only 10% of production, China's steel exports a year more than a year of parts of steel production. But even so, the domestic steel mills are still competing production." Zhang Lin said.
China's steel industry have to face the reality is that even if China's iron and steel in exports and exports this year to get the "double the first", but before the total domestic production capacity, the "big cancer", steel exports have achieved results produced by the ills of the steel industry is still so pale.
Under the base of domestic steel production capacity is so huge, digestive capacity peremptory has become the iron and steel industry in the next few years is not open around the topic.
Metallurgical industry planning institute director li xinchuang told reporters that the steel industry demand in the future mainly solve the unstable product quality, "not only refers to the steel quality is not stable. Steel mills in the future, first of all, to develop high-end products, meet the new requirements of rapid development, capacity structure, layout structure, organization structure and optimized constantly, secondly, the steel industry will focus on the future production structure adjustment, steel consumption, output, although there is no big change, but the restructuring task is very difficult, only by adjusting to better service to the downstream steel".
Related posts