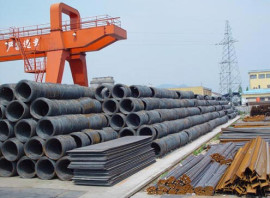 According to Indian steel department subordinate joint steel committee released the latest statistics, the 2014 fiscal year, between April 2014 and March 2014) India's total imports of finished steel 10 million tons, jumped 75% over the previous year, once again become a net importer of steel, and expects fiscal 2015 this trend is likely to continue to continue, the Indian iron and steel enterprise is concerned.
From the main source of steel imports, fiscal year 2014 China's exports to India steel 3.6 million tons, 232% year-on-year growth, and thus become the India's biggest steel imports; South Korea and Japan ranked second and third respectively, to export 1.9 million tons, 1.6 million tons of steel, year-on-year growth of 46%, 46% respectively. Benefit from their own currencies, Russia and Brazil to India's steel exports also appear obvious growth.
For imported steel greatly increased lead to India's share of the market decline in domestic steel enterprises, India's iron and steel company, said, Indian raw material price is not able to keep pace with the global iron ore and coking coal prices decline, resulting in the Indian iron and steel enterprise production costs are significantly higher than foreign counterparts, so its steel lack of competitiveness in domestic market. The personage inside course of study points out, in India's domestic steel production of steel can compete with global steel prices falling before the India steel import increasing trend will not change.
Indian steel analyst, referring to cheap imports from China, Japan and South Korea steel said, "if you steel prices are competitive, you can easily find a buyer." In early may, hot-rolled coil, India more than 3 mm and the thickness of the ex-factory price of 28500-30500 rupees per ton (us $443 – $475 / ton), China similar products was quoted at $395 / ton (cif mumbai), and the products but also offer from Brazil and Russia as low as $380 – $385 / ton (cif mumbai). In India the competitiveness gap between domestic and imported steel steel.
According to the Indian a provision released this year the state budget, the government of India in the future can be their own tax rates for imported steel up to the current up to 10% from 15%. At present, India 5% – 5% on most of the imported steel tariffs. According to Indian analysts estimate that as much as possible in order to lower the Indian domestic steel and the difference between the imported steel, in the future the government might even be additional to impose a 10% tariff on imported steel.
Related posts