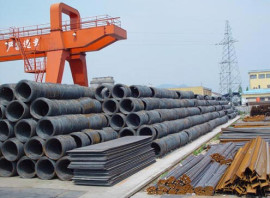 Have futures daily reporter revealed that the industry has to cancel the boron steel export tax rebate is research in China. "Boron steel export tax rebate report drafted very early, but has only recently begun to study, the differences of the now." The industry source said.
It was revealed that in addition to boron steel export tax rebates, the relevant departments in research to cancel some steel export duty policy. "What are two scheme execution at the same time, or cancel the boron steel export tax rebate, it is not too clear." The source said.
We have learned, at present in China's steel export policy, general long products is a plus tax policy, boron steel is a tax rebate policy. Previously stated in the customs tariff, boron content of 0.0008% or more by alloy steel products can declare, can enjoy export tax rebate policy, tax rebates in 5% – 5%.
Customs according to the latest figures, November 1, 2014, China's total exports of steel 83.61 million tons, up 46.79% from a year earlier. Among them, exports of 9.72 million tons of steel in November, is an increase of 1.17 million tons last month, rose 13.68%, monthly exports set records.
"This year, China's exports of steel products, there is about 40% boron steel, this quantity is very big." The personage inside course of study says.
If the calculated at 40% of the export quotas, November 1 – the total boron steel exports more than 33 million tons. Because the boron steel exports account for larger proportion of the total, and widespread concern in the industry if cancel the export tax rebates, will form a larger impact to domestic steel market.
But analysts view, impact will not be too big. He analysis of the current besides Russia, other countries want to fill the market is very difficult, even if the export tax rebate policy cancelled, domestic also through price increases for digestion.
According to the steel mill people feedback, while the market's expectations of cancellation of boron steel export tax rebates in the enhancement, but steel mills are still in the normal orders from abroad. "Export can alleviate the pressure of the area of sales, whether cancel it or not, for steel mills, they can be locked in advance through the futures market prices." Everbright futures research institute, mine steel, a senior researcher at Xia Junyan said.
Industry, a senior researcher at Qiu Yuecheng agreed that boron steel products export tax rebates cancellation, does not have a big impact on China's steel exports. Based on this, he predicts that China's steel exports next year will not be less than 85 million tons.
It is worth mentioning that although the industry for next year's steel export markets remain optimistic, but don't believe in the steel market in the short term. According to reporter understanding, before the end of the year, steel mills will make collective fill inventory, hong kong-listed will appear a obvious "had winter" rally. Xia Junyan said, at present the steel mills fill inventory to consciousness are fade, generally adopted low inventory strategy, apparently unable to support the raw material market.
"Had winter underpowered, iron ore prices to below fortescue's cost, at the bottom of the market to form a region." Xia Junyan believe that iron ore prices have dropped space, "when the fortescue assets too cheaply, is likely to be at the bottom of the iron ore prices".
Related posts